| | |
| --- | --- |
| by NYMetroParents Staff | March 17, 2011 |
For years we've given you great advice on everything camp. Here are some highlights to review before you send your child to summer camp this year, including how to pack, how to keep your child safe, how to encourage them to eat healthy, and more.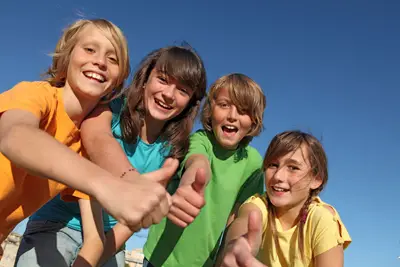 Get Packing.
List in hand, "sit down with your child and start to figure out what you'll need to buy, and what you already have," suggests Candy Cohn, assistant director of Maine Arts Camp. "Take your child with you to buy the items for camp, and let him or her pick things out with your guidance. Make sure your child helps you pack, so he or she knows where everything is."
"Purchase the least expensive socks and underwear because [many] of these items will not come home," says Ken Etra, owner and director of Camp Pontiac in New York. "Prewash new colored items so they will not run in camp laundry." The folks at Camp Waziyatah in Maine find that campers often forget useful items like "shower sandals, colored bath towels (so campers can recognize theirs easily!), a flashlight with extra batteries, and a second pair of sneakers."
Ellen Pober Rittberg, mother of three and author of 35 Things Your Teen Won't Tell You, So I Will (Trade Paper Press, 2010) offers a practical tip: "Pack an extra set of flip-flops. If your child breaks his or hers... he or she [could come] home with a case of athlete's foot." She also suggests an extra bathing suit.
Rittberg suggest sending camp-bound kids off with some icebreaker items to share or trade with bunkmates, like individually wrapped nonperishable snacks (she likes sugar-free lollipops), playing cards, or comic books. - Marian Tascio Friedrichs
Keep 'em healthy.
"Talk to your child about safe and appropriate behavior, listening to the counselors, and following rules and directions," says Brooklyn-born school nurse Mary Walsh, R.N. While it's difficult to safeguard against minor cuts and abrasions, communicating clearly to children about what to do and whom to see when a problem arises is vital. Camp nurses will be able to properly assess injuries and illnesses, and can send the child to a physician if the problem warrants a further look.
More tips:
• Provide a refillable bottle of water to protect against summer heat.
• Outfit kids attending camp outside the city in long socks and pants to protect against the threat of ticks and Lyme disease.
• Remind children to steer clear of sharing hats, pillows, and combs in order to avoid a case of head lice.
• Don't give your child medicine to self-administer. Follow the directions and protocols of the camp for medications, including prescriptions and over-the-counter.
• Make a list of questions, and then get the answers: Is there a doctor on site? How far and where is the nearest hospital? How many nurses are at the camp? What is the ratio of medical professionals to campers?
• Let the camp know of any special medical or dietary needs, i.e., bee or nut allergies. Inform the staff of any serious medical issues your child might have, especially if they require the use of an Epipen or inhaler. - Mike Kirwan
Younger sib left at home?
Bob Ditter, family therapist and one of the nation's leading experts on camp, cautions it is likely that the child left at home will experience separation anxiety and truly miss his or her older sibling.
His advice:
• Before the eldest child leaves for camp, take a picture of the kids together for the younger sibling to keep in his room or carry around in his pocket until big sis or bro returns.
• Encourage your child who is going to camp to take the time to write a letter home to their younger sib. Getting personalized mail will single out the younger one in a positive way and reinforce their bond.
• Don't worry about planning special activities with your stay-at-home child. "All children are more caught up in the moment than adults, but younger kids especially so," Ditter says. "Once their brother or sister is at camp, they can easily get back to their regular routine at home."
• Remind your younger child that camp is still in their future when they are a little older.
- Peg. L. Smith, chief executive officer of the American Camp Association (ACA)
Give picky eaters a real choice.
Talk with your child realistically about the food that will be available at camp, advises Becky Sarah, M.P.H. - and give him a voice in whether to go. On the positive side, it can be a chance for a picky eater to get better at coping with an unpleasant situation. "It might be worth eating the same few foods all the time, or trying to be less picky, in order to have access to all the fun parts of camp," she says. On the other hand, if the choice to go to camp was forced upon your child, and she genuinely disikes all the food, she might be all the more miserable.
"I don't believe children choose to be picky eaters," Sarah says. "It's just how the food tastes to them. Imagine an adult who really dislikes spicy food being served a constant diet of very hot dishes and being called picky when not eager to finish them all off!" At camp, positive peer pressure may induce a child to try other foods. (So, you never know - your child might come home from camp craving asparagus!) -Alison Hogan
Yes, they may indulge in sweets.
At sleepaway camp, kids often have access to unlimited food at mealtime - and treats from their fellow campers.
"It's the kid's job to test," says Dr. Laura Jana, author of Food Fights: Winning the Nutritional Challenges of Parenthood Armed with Insight, Humor, and a Bottle of Ketchup. If your child comes home from a sleepover or camp and tells you that he ate five cupcakes for breakfast, "It doesn't mean you've failed as a parent," she says. Or if your daughter comes home having gained weight, you can take the opportunity to point out that now she understands what she needs to do to be healthier.
Becky Sarah, M.P.H., agrees. "The ideal thing, of course, is to choose a camp that serves healthy food. But this is also the time to trust the parenting you've already done. If the child is used to a healthy diet, she will probably be more likely to make healthy choices at camp. But she may also take this opportunity to try out all the things not available at home. Talk to your child about the fact that eating only refined carbohydrates and sugar, especially for breakfast, can make a person feel low-energy and grouchy. Your child may still try that out, but she might also realize it is not making her feel good." - Alison Hogan
Also see:
• Summer camp fun for children with special needs
• Electronics at camp: To plug in or not to plug in?
• Dealing with your child's separation anxiety
• Dealing with your separation anxiety
• Choosing the right camp for your child
Our Camp Guide, for more camp advice, plus a roundup of camps in your area